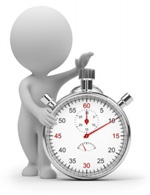 Taking a step back from your daily routine is a fantastic way to analyze exactly what you do each and every day. This is something I have recently done myself after finishing reading The Four Hour Work Week by Tim Ferris.
If you haven't read it yet, I highly recommend it as I can guarantee you will change not only your outlook on life but also your work ethic.
I looked at my daily routine and a LOT of it was spent doing things that weren't productive and weren't making me money. Things like checking emails, going on Facebook, browsing the same sites over and over again. Until you actually sit down at the end of the day and detail what actual 'work' you have done, you might not even realise how much time you are wasting.
Whether you are earning a living from the internet or are simply trying to, these tips will instantly allow you to get more done in less time. [Read more...]