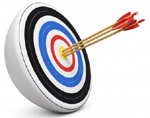 Thought I'd do a quick post about hitting goals today. These will work not only for hitting financial goals but also for any goals you put your mind to. So whether you want to make $2000 a month online or want to lose 30 pounds of fat, setting your goals is done the same way.

So let's get started!
Hitting Your Goals #1 – Write Them Down
Yes this is an obvious one but probably the most important.
I have a whiteboard on my wall right in front of me. It's directly on the wall above my main computer. On the right hand side of that whiteboard are my long term goals (when I say 'long term' I personally use 3 monthly increments). These are what I want to achieve in the next 3 months. Each one has its own colour.
Then on the left hand side are the steps I need to take to reach each one. Again all colour coded so I know which steps relate to which goal. [Read more...]