5 WordPress Plugins I Install On All My Blogs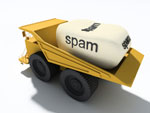 You can often take things for granted when setting up blogs. I instantly know exactly which plugins and settings I need for all my blogs and just install them in minutes. So I thought I would share some of the things I install on my blogs and why.
So here goes…
Akismet – THE Spam Killer
OK so Akismet is already installed on a default WordPress blog but you need to activate it with your API key. I use this because it automatically filters out spam comments from my blogs so I don't have to wade through them all. It's constantly being upgraded and works really well.
All In One SEO Pack – Makes Your Blogs SEO Friendly
This free plugin lets you add META tags to each post and also some pretty cool stuff to other sections and pages too. You can choose whether to let the search engines index your categories or archives for instance. Sometimes this can cause duplicate content if you allow them to do this. It's a great free plugin. Get it from here.
GoCodes – Link Shortener/Cloaker
GoCodes is what I use to cloak my affiliate links. All you do is paste in your affiliate link and choose what to call the new link. It then cloaks it and gives you the choice to track clicks and also add no follow tags to them. Plus all links are now from your own domain name which helps with SEO. Get it from here.
Google XML Sitemaps – Announce Your New Posts!
Not only does this plugin create an XML sitemap for your blog but it also pings the search engines when you add a new post. This can often lead to new posts being indexed within just a few minutes. Seriously! Get it from here.
MaxBlogPress Ping Optimizer – Stops Unwanted Pinging
This plugin prevents your blog from pinging services when you are editing or creating draft or scheduled posts. It will only allow pinging when you want it to. Great free plugin that does a necessary job. Get it from here.
So these are 5 plugins I install on every single blog I create.
Tony