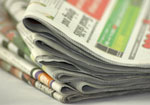 No matter what niche you are involved in, it's always a good idea to keep expanding your knowledge and learning all the latest information within your niche.
So having a list of several blogs that are related to your own and considered to be authorities is crucial. It allows you to see what is popular, what the latest news is, what the latest trends are and so much more.
It's also a great way to give yourself some ideas about what to blog about, especially if you are having trouble coming up with your own ideas.
Here are 5 blogs within my own niche that I love to read:
ProBlogger – A great blog for anything related to making money by blogging. Run by Darren Rowse and one of the most popular blogs online. It's an essential read to keep up to date with what is happening in the blogosphere.
Darren is a guy I have a huge amount of respect for and considered THE authority when it comes to blogging. I've been following his blog for several years and it has certainly taught me a great deal.
Entrepreneurs Journey – Another hugely popular blog run by another Aussie named Yaro Starak. Unlike Problogger, Yaro focuses on internet marketing as well as blogging. So there is a lot of sound business advice on his blog too.
Blogging Tips – This blog focuses purely on (yes, you guessed it!) blogging tips. They have several authors who provide some very useful tips. Everything from building traffic to posting content is covered and makes a good daily read.
Copyblogger – Another one of the most popular blogs in the world, copyblogger is run by Brian Clark and gives a huge amount of information about writing and producing compelling copy.
John Chow – This one I like reading because he shares a lot of information about what it takes to become a dot com mogul and also the lifestyle it brings. It's more personal than other business style blogs, which is why I like it so much. You can really relate to John and follow his every move!
So those are 5 blogs I like to read as often as I can. Make sure you have your own list of blogs and keep track of what is going on in your own niche.
Enjoy Your Blogging!
Tony