Auto Blogs – Worth It or Not?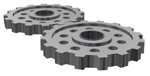 I've been building auto blogs for around 8-9 years now. Even before some of the popular auto blogging plugins such as WP Robot were even created.
I had my own very simple script made that pulled in RSS news feeds, images and also span random paragraphs of content.
Yes, it was simple but it worked!
Since I started I think I've sold at least 500 auto blogs, probably closer to 1000. Most of them do make a small amount of money and because you can build them fast, it's always worth giving it a go.
Now depending on what content your sites are producing, auto blogs might not be worth it anymore for Adsense blogs. If your content is good then fair enough but if it's just gibberish then you've got a good chance of Google knocking on your door and booting you out of their Adsense program.
But one thing that always works is creating sites for other programs such as Amazon. They provide lots of product information that sites can be created in minutes that look great and will appeal to visitors.
Click here to see a brand new (and very cheap!) WordPress plugin that will build Amazon sites in around 3 minutes. It schedules the posts too, so your blogs will get bigger over time.
Now although these blogs might not rank high because it's duplicate content to some extent, you will get 'some' traffic to them from the search engines. Plus there are hundreds of other places where you can get traffic from. As long as your blogs look nice then they will convert because you'll have products on there that people are looking for.
So my personal opinion is they are still worth it because they are very quick to build and most should make a small amount of money over time. The only cost is a domain name and about 3 minutes of your time.
Even if they make just a few dollars, you can still sell them on Flippa.
So why not give it a go if you've never tried it before.

Tony