Finding Recurring Affiliate Programs to Promote on your Blog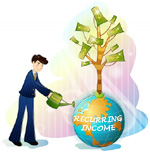 Using affiliate marketing is a great way to monetize your blog. You don't need to create a product, deal with customer support or any of that.
Just promote your affiliate links and make a percentage of every sale you refer.
Simple!
However – If you do what all the so called 'gurus' tell you to do, you will have no doubt tried to promote affiliate products from ClickBank.
While they do pay quite well, they have one fundamental thing wrong with them:
They have far too much competition.
That's because EVERYONE who is trying to make affiliate commissions uses them. That makes your job even harder.
Fortunately there's a solution.
Here's a secret database of more than 160 HIGH paying recurring affiliate programs that you can use today:
https://www.tonynewton.co.uk/watch/160affprograms/
Each one comes with:
1) Name of Product
2) Description
3) Product URL
4) Commission Payout
5) Affiliate signup URL
And there's a niche that you are sure to be interested in:
Arts & Entertainment
Betting & Gambling
Dating & Relationships
Education & Languages
Exercise & Fitness
Finance & Loans
Forex & Investing
Green Products
Health
Home & Garden
Hypnosis
Internet Marketing
Parenting & Family
Self Improvement
Software & Services
Sports
Weight Loss
This means you can beat the competition in its tracks and start earning commissions fast!
What makes them even better is they are all recurring products which means you get paid over and over again, not just once like most affiliate programs.
Hope you like them!

Tony