Are 1 Page Blogs Now Dead?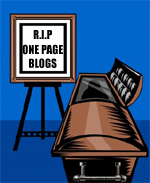 In a recent post I talked about the difference between building small niche blogs or building authority blogs. Each of them has their advantages. But since the Panda update a lot of people now believe that small (thin) sites will drop down the rankings.
Well with anything I do online, I always test and try things myself to prove whether something is correct or not. So recently I started creating small niche Adsense blogs just to test whether they can make money on their own and rank like I would hope.
Don't get me wrong, I've been making money with Adsense since 2003 but recently I have been focussing on product creation instead of building Adsense sites.
So this was a welcome change!
So I picked out 5 sites to build all in one niche. Created them with one post as the homepage and the normal static pages such as Privacy Policy and Terms of Service etc. Basically they are just one page sites ranking for one keyword.
I built them towards the end of August and every one has made money and is ranking in the top ten of Google for their term. One makes more than $1 a day but the others are more random.
Maybe this is a temporary thing and the Panda update might affect them but to be honest, I'm not bothered! If I can make a site in 2 hours that earns money every month and is an asset I could flip for $500-$1000 then I'll happily keep building them.
Also, I did very little promotion on these particular blogs too. Nothing like what I do for my other sites.
Now I do have authority blogs too, so I've got all bases covered but this was an interesting test. Actually since then I've created a LOT more of them and am enjoying getting back into the Adsense game again. So much so I'm creating a course on exactly what I'm doing and how I'm building these small sites and authority blogs too.
So stay tuned for that one!
I guess having more than 200,000 clicks on my Ads and some months reaching 28,000 clicks I must have done something right over the years and would love to share it with others to help them make money blogging with Adsense too.
So are 1 page blogs dead? Well no I don't think they are.

Tony
Please feel free to post your comments and share on Facebook below: