LFMPire Bristol – My First Ever Marketing Event!
Well I have now returned from my first ever marketing event and I've got to say it was AWESOME!
It was held down in Bristol and hosted by Robert Puddy and Donna Fox. There were so many well known marketers at the event that it was like a real who's who of faces.
I travelled down with David Chamberlain who introduced me to some of his contacts and friends and the whole thing was so much fun.
I also got to meet Tony Shepherd for the first time (even though we have been business partners for several months!) and Tony is a really great guy. Although it was difficult to talk to him as he is just so tall and I'm quite short, so I had to sit him down to chat!
Here's a picture of us (me on the left, Tony Shepherd on the right and James Howard at the back):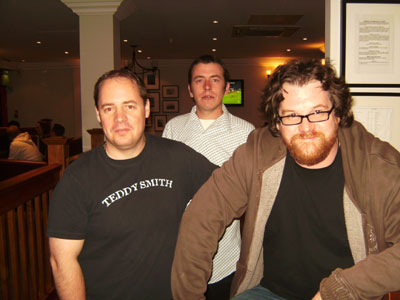 But it wasn't just successful people at the event as there were people new to the business there to learn also. The great thing I noticed was how willing most of the successful guys were to talk to the guys just getting started. They were no doubt in the same position in their own past, so they know what it is like.
All in all, I have taken SO much away from the event that I can't wait for the next one!
If you have ever dismissed going to events yourself, I can honestly say they are REAL life changers so make sure you get yourself along to the next whichever it may be.
Right, better get back to work!
Tony