When To Monetize Your Blog?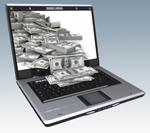 A question that I see commonly asked is "When is the best time to monetize my blog?"
Whilst there is no definitive or correct answer, I guess it all comes down to what plans you have for your blog.
Is it for short term income?
Are you building many blogs?
Do you want a blog that you can build up for several years and really profit from?
Main Reason for Not Monetizing
Whilst it may seem strange to not monetize your blog, there is a very good reason for it; you will gain a stronger following and gain more backlinks to your blog if you don't monetize straight away.
Why?
#1 – Visitors to your blog will see that you are just giving away quality information and not plastering adverts all over your blog. You are therefore not expecting anything in return. This difference will mean they are far more likely to bookmark or subscribe to your RSS feed and actually want to keep visiting your blog. You are building up your own blog fans.
#2 – Fellow bloggers or webmasters will be far more likely to link to your blogs if you don't have banner ads or contextual ads. Whilst your content may still be high quality, many see it as helping you to make more money and don't like doing that as they aren't getting anything in return. But if they see that you are doing it all for free, they will gladly link to your blog in a second.
So the key to earning long term wealth from your blogs is to spend several months posting high quality content, gaining hungry followers who are desperate to read your posts and gain hundreds of free backlinks which will in turn boost your blog results in the search engines.
Ideal Time to Monetize
Once you have the above and your blog is getting a reasonable amount of traffic and backlinks, you can then start to add some monetization. Your visitors probably won't mind too much as they are used to your content by now and will still be getting it.
People who have linked to your blog posts, probably never go back and check sites they are linking to, so your links will remain.
So if you can, try and build up your blogs first before trying to make money from them. This will ensure that you can make a lot more from them in the future 🙂
Enjoy Your Blogging!
Tony