Wishlist WordPress Membership Site Plugin – My Review

I wouldn't use another WordPress membership plugin…period.
That's my review. Get it from here.
What? You want me to elaborate? Well, OK Then!
I've already used the plugin on several sites and it is ready to go on 3 new membership sites I'm launching in March.
So what exactly does it do?
Wishlist membership site plugin allows you to create a full blown membership site in just a couple of clicks of your mouse. Just upload the plugin, activate it and set up how you want it to be used.
The flexibility is what I love about it. You can have all your content protected or you can have a public blog that shows a certain amount of information but people have to join to get the rest. This can be either paying for it or just signing up for free.
Great way to build a list!
At A Glance
The dashboard shows you how many members you have and what membership level they are at:

The settings tab allows you to set the pages that members and none members will see when signing up. It also lets you personalize emails and set the details for the registration page: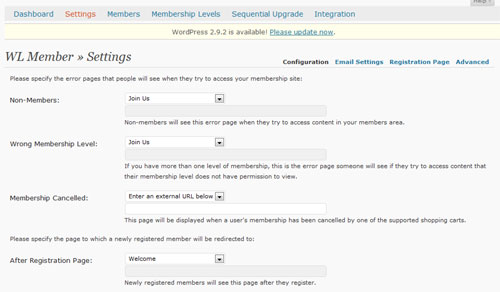 The "Members" tab lets you see all the members and you can also manually add members from here:

The "Membership Levels" tab lets you choose how many membership levels you require. You can also choose what content each level has access to: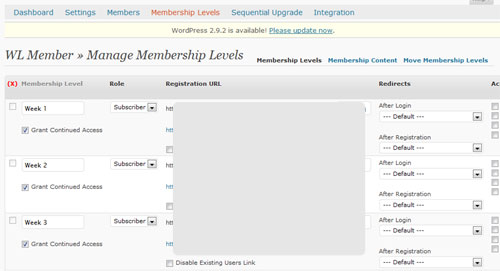 The "Sequential Upgrade" tab is one of my favourites. What it does is allow you to automatically upgrade members so they can access new content. This means you can have paying members that automatically get new content each month. All without you lifting a finger. As you can see in this site, I am automatically giving members new content every single week: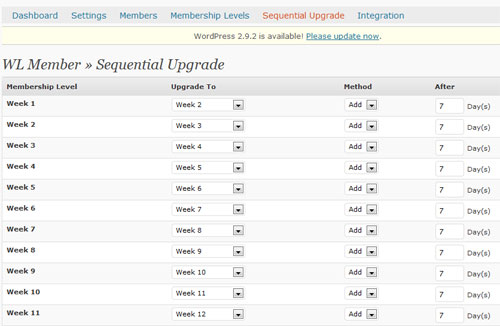 The "Integration" tab lets you set up your membership site to either accept payment through one of the built in processors or to work with your choice of autoresponder:

To Summarize
I am using the plugin in several different ways. Here are just a few of them:
1. Have your own paid membership site.
2. Offer free content with a paid upgrade to access featured content.
3. Have all your content secure and have people sign up for free to access it.
4. Have multiple membership levels.
5. Allow limited access for trials etc.
Another great thing is the support. I've had a couple of questions in the past and they were answered personally by Stu (owner).
So if you want to have your own membership site set up in seconds, you won't go wrong with the Wishlist membership site WordPress plugin!
Enjoy Your Blogging!
Tony