Choosing Keywords for Niche Blogs
So I've been building niche blogs for 8 or 9 years now and during that time the guidelines I use have changed a lot. Not only with how I set up my blogs but also how I go about choosing keywords for my niche blogs.
First of All, What is a Niche Blog?
My niche blogs are generally 4-5 page blogs based around a certain main niche keyword. They are quite similar to Google Sniper blogs but I use either Adsense or ClickBank products to monetize them. They are quite basic in design but have good quality content. The reason why niche blogs work is because the search engines rank them high. Even since the latest round of Google changes, niche blogs still get ranked high.
Choosing Keywords for Niche Blogs
When I first think about creating a niche blog I look for the affiliate product first. Once I find one that I like and would be happy to promote, I then start my research to find a suitable keyword to target. I find this method works far better than finding keywords first then finding a suitable affiliate product.
Once I have my product, I will then do a little research using the Google Keyword tool to narrow down results, and then I'll check the competition using Market Samurai. I would use the keyword research function of Market Samurai but for some reason it crashes a LOT when I do, not sure why but it does. It is however a fantastic tool that I use everyday for checking competition and for tracking my sites rankings.
So let's get an example going…
The first thing I do is head over to the ClickBank Marketplace and start drilling through the various categories. I look for products that pay around $20 or more and have a gravity of at least 5.
For this example I'll look in the Cooking, Food & Wine category. Here are the top results: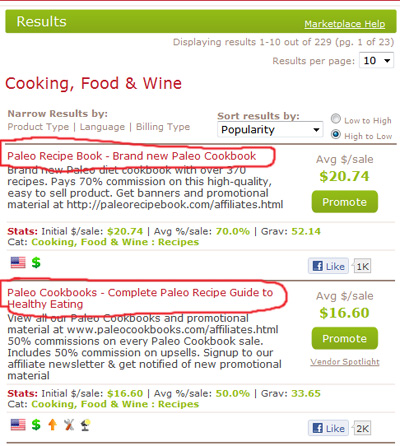 So it seems that Paleo diet products are selling quite well. So I'll head over to the Google Keyword tool and type in Paleo diet and here's what it brings back: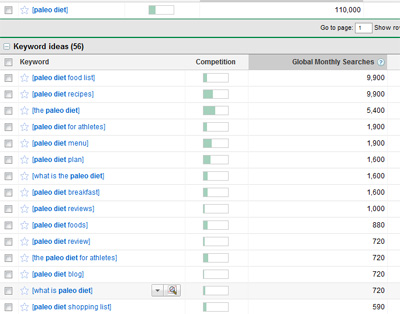 I always do my searches in 'Exact Match' so I can see the true value and potential of a high ranking for that exact keyword.
What I look for are keywords that have more than 1000 searches a month. I then put these keywords into Market Samurai and assess the top ten positions in Google for that term. If it's too competitive then I'll move onto the next keyword until I find one that is worth targeting.
What is Too Much Competition?
Well let's take the first result 'paleo diet food list' and put it into Market Samurai. When looking at the competition we see this:

We can see that actually for a keyword that is getting almost 10,000 searches a month, the competition is not too bad at all. There is a lot of green in the results, so a top ten position could be achievable with a small amount of effort and a well optimized niche blog.
So let's go down our keyword list and choose another one 'paleo diet breakfast'. Here's what Market Samurai tells us:

We can see that although many of the top ten results have a lot of pages indexed, it too is quite an easy keyword to target.
To Sum Up
In just a few minutes I have found keywords that get quite a lot of searches a month and 2 hot selling products to target. All I would do now is build niche blogs for each keyword (or make a larger authority blog) and put affiliate links to the ClickBank products on them.
Then just continue to rinse and repeat this process.
I have built and sold hundreds of niche blogs using pretty much this exact system. So I hope this helps you to start your own niche blog empire!

Tony