How To Build A Blog To Sell For $20,000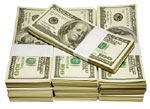 I follow website sales almost everyday, so am always on Flippa.com checking out what is selling and what isn't selling.
A few days ago I noticed a blog sold for $20,000 and it got me thinking about how easy it would be to create something similar. The blog in question was www.blogussion.com and you can see the Flippa auction here.
The blog itself makes most of its money by selling a WordPress skin. This has obviously been custom made so unless I wanted to hire a programmer and get one made I would have to look at other alternatives to make money if I was to do something similar.
I was more interested in the content, the age of the blog and where its traffic was coming from.
It seems all the content is unique and there are 436 posts in total. They have been posted for the 2 years it has been running. So basically a post every 2-3 days on average. The traffic comes from the email newsletter which has around 2000 subscribers and the RSS feed which has the same.
Useful point to note – it has built a following.
To Build One Myself
So it would seem that in order to build something similar I would need to be posting a unique article everyday or every couple of days. This might sound difficult but you can quickly write (or rewrite) an article in 30 minutes and post it, so it would take much time. You could of course outsource that for maybe $3 per post. So that would cost $100 a month or so to be 100% hands free.
Obviously I would need to do some keyword research to make sure I'm targeting related and easy keywords to drive in free traffic from the search engines.
I would also need to have a nice looking theme with a newsletter and RSS subscribe feature from the outset. That way I start building up repeat visitors just like the blogussion blog did.
Monetization could be through affiliate banners, CPA ads or a product I buy rights to or get made myself. Monetization is always the easy part.
Not Too Difficult?
This doesn't have to be in the blogging or make money niche. It could be done for a health blog or a motivation blog. Just set it up right from the outset and continue posting useful and quality content.
Then in a year or two you could potentially sell it for $20,000 or more.
That doesn't sound too difficult to me at all. Especially when the price of virtual real estate is continuing to rise as investors are seeing the higher rates of return for their money when compared to bricks and mortar investments.
Well it's certainly given me something to think about….
Let me know your thoughts below.
Tony