Interlink Your Posts For Better Exposure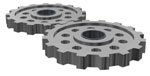 Once you have been blogging for a while, you'll start to build up dozens, possibly hundreds, of blog posts.
These posts can be pushed away to one side and only get traffic from the search engines. But this doesn't mean they aren't still useful, so interlinking to them from your new posts is a great idea.
Create Sneeze Pages
Darren Rowse from Problogger calls them sneeze pages.
What are they?
They are basically new blog posts that you create specifically to link to your previous posts. This gives your readers lots of value but also gives the search engines a greater opportunity to find them and rank them.
Do It Automatically
A WordPress plugin I like to use is SEO Smart Links. Just upload it to your blog and activate it.
What does it do?
It will automatically create links within your blog posts to previous posts that match certain keywords. It can be customized to work exactly how you want it but actually works very well out of the box.
This means you will see links appearing in your new blog posts that automatically link to your older content.
Do It Manually
You can of course add links to previous posts manually when you are creating new posts. Just have a look through your archives and see if there are any posts you can link to that matches the topic of your new post.
So decide which method suits you best and you should start to see a difference in your traffic levels and also how long people are staying on your blog.
Enjoy Your Blogging!
Tony