Top SEO Tips and Tricks That Work For My Niche Sites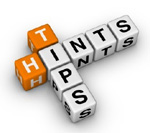 In this article I'm going to share some very simple SEO tips and tricks that I use on all my niche websites where possible. Most take very little work and are done at the beginning and each time you add content. The results generally lead to easy top ten rankings in Google within a short space of time.
You have probably heard of most of these before but if you're not using them then you really need to start. The results for just a few minutes work can lead to an almost instant rise in the search engines. So let's begin…
#1 – Exact Match Domain Name
Exact match domain names can give you a massive advantage in getting ranked for your particular keyphrase. Google gives extra credit if you have the exact keyphrase when choosing where to rank your site (that's unofficial, just going off my own results).
So let's say you have found a niche you want to target and are ready to build a site. For example purposes, let's say that niche was low carb diet tips. You would then see if that exact match keyphrase was available to register in a .com or a .org. I used to use .net domains quite a lot but recently I've found .org's do particularly well. If you can register one of them, then you have a massive headstart on getting ranked for that phrase.
If it's not available, then type the keyphrase into the Google Keyword tool and find another phrase that is getting searched for a lot and keep going down the list until you find one.
#2 – Use Your Keyphrase Wisely
Keyword stuffing (adding your keywords dozens of times onto your website) doesn't work any longer. But the search engines still need to know what your site and individual pages are about. So you still have to insert your keyphrase several times. Here's my general rule of thumb on where I put my keyphrase for each page I make…
– In the META Title
Other than in the domain name, using your keyphrase in the META title tag is the next important thing you should do. Try and get it right at the beginning of the title. So for our example it would be something like "Low Carb Diet Tips – Advice on Losing Weight".
– In the META Description
You should add your keyphrase to your META description too. Again, as close to the beginning as you can. So it would be something like "Low carb diet tips to help you lose weight fast. Just visit our site here to get our free tips". Your META description is what is used underneath your title in the search engines. So adding a call to action (Just visit our site here to get our free tips) you are encouraging people to click on your link and that is often enough to get more clicks than the sites above you.
– In the META Keyword Tag
Although Google doesn't pay attention to this tag any longer, other search engines still do. So it's worth adding your keyphrase here for the extra 10 seconds it would take you to do it.
– First and Last Paragraphs
I always have my main keyphrase in the first and last paragraphs of my content. Then I use it sparingly within the content itself depending on how long the article is. Generally I use it around 4-5 times in the entire article.
– Bold, Underline & Italic
I always make sure my main keyphrase is at least bolded, underlined or in italics. Often I use all 3 in one article and almost always use 2 of them. This again helps the search engines to decide what your page is about and they will rank it accordingly.
– Image ALT Tags
I almost always have at least one image on every page on my sites. When doing so, I use the ALT Tag and have my main keyword in there too.
#3 – Backlinks
Once you have optimized your site using the above, you should find you won't need hundreds of backlinks to rank your sites. Of course this depends on the competition of your keywords but generally speaking you won't need hundreds.
So the very first thing I do is to write an article and submit it to the top 3 article directories which are Ezinearticles, Articles Base and Goarticles. I use the same article but just change the title and resource box a little. I link to my main homepage using my main keyphrase as the anchor text and then link to a sub page using that page's keyphrase.
Next I will create a short video and submit it to YouTube. This is often just a slide show of one of my articles. Maybe with some background music on it. Then I link to my homepage directly below the video with a call to action telling the person browsing what they will get when they visit my site. This is usually free tips or another video etc.
Once that is done I will bookmark my homepage at a handful of social bookmarking sites. This is mainly to get the sites indexed fast.
After that I will gradually keep submitting articles and videos for each site. I try and do one article and video for each site when I can. The main thing is to be consistent with your backlinking. Don't submit 10 articles immediately and then do nothing. It doesn't look natural to the search engines.
Either get a lot of links fast and then still keep getting them on a consistent basis or start small and build them up as you go along. I'll say it again; the main thing with building links to your sites is to be consistent.
Also vary your anchor text for 1-5 different phrases. So in our example, you would use "low carb diet tips" around 60% of the time and then choose 2-3 more keyphrases and use those for the rest of the 40%. Something like "low carb diet" and "lose weight with low carb diets" would be suitable. But check your Google Keyword tool results and choose ones that are getting searched for.
Conclusion
Just by doing the above is often enough to get top ten rankings very quickly. If you find that you aren't getting ranked then you will need to get more backlinks using the anchor text that you want to rank for. There's nothing really more complicated to it.
Back soon!
Tony