3 Way Links (Updated for 2011)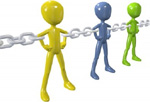 I explained how effective 3 way link building was back in this post in November 2009. The reason why it works so well is because it is far more effective than reciprocal linking which doesn't carry the same weight as it used to do. But in this post I'll show you how you can automate the entire procedure so you don't have to do it manually anymore.
Firstly, this is how each method works:
Reciprocal Linking

3 Way Linking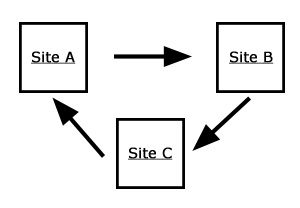 Whilst reciprocal linking does still carry a small amount of SEO benefit, it's certainly not as effective as it used to be. This is mainly because Google saw how easy it was for websites to link to each other and it could 'game' rankings when used extensively.
3 Way Links on the other hand give more weight because they are classed as 'one way' linking. As I explained in this post, you can do this manually by creating another website which you use to link out to other sites but the incoming links you have pointing to your main money site.
In the last 12 months I started using a service called, unsurprisingly, 3WayLinks!
It's a service by Jonathan Leger who has created some superb tools including The Best Spinner. What 3WayLinks does is automate the entire 3 Way Linking campaign. It can be used on any website including WordPress blogs.
All you do is enter your site details and add a resources page onto your website. You will start getting links pointing back to your website and your links page will automatically start growing and linking out to other sites too.
This is effective in 2 ways:
#1 – Obviously you are gaining backlinks, so your rankings will increase in the search engines.
#2 – You're linking out to other related sites which is seen as increasing the visitor value of your site.
You can choose 3 different keywords that are used as anchor text to point to your site. So not only are your links increasing over time, you also get a variety of link text which looks more natural to the search engines.
Plus, you can choose to only link out to sites in the same category as your own. When search engines see you link to other related sites, this is a positive thing as you are giving more value.
You can add up to 50 sites in your 3WayLinks account and they will all build backlinks that are generally completed after 2 months. You get at least 250 links to each site (some of mine have more than 500).
What I love about the whole process is it is automated. You can install the resources page (or WordPress plugin) in about 2 minutes, then just sit back and watch the links come in. You can see all links in and links out from the control panel.
I think it's a great tool that has certainly made an impact on my own niche sites, so I highly recommend it.

Tony