Increase Traffic & Rankings with Social Media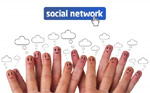 Now I'll be the first to admit that when it comes to social media such as Facebook, Twitter, Google+1 and the like, I've never been a big advocate of using them.
I'm just a 'stuck in my roots' SEO and organic traffic guy.
But saying that, I'm also not averse to making changes to help my business either. So I've been looking into various methods and have started implementing them on my sites. Like everything I do, I'll track the results and if they work I'll do more of it and if not I'll dump it.
Using Social Media To Increase Your Rankings
The main reason I'm looking into them is because there is a lot of noise recently in the SEO communities that say apparently sites utilizing social media are getting better rankings. They appear more 'real' and have real people behind them, as compared to sites that don't have any social aspects or interactivity at all.
The first thing I've been looking at are Facebook fan pages.
Facebook Fan Pages
I'm sure you are aware of what these are. Simple pages that you create on Facebook that advertise your business (and website).
I've created a few before but they were, well how can I say it….basic!
So it's no wonder why I never had any results with them.
Last week I bought a WSO called FB Slider because I loved the look of the pages it created. In fact, they are like mini websites but all contained on the one Facebook fan page. This means I can now create great looking fan pages that aren't boring anymore.
I've started adding these to some of my sites to see if it makes a difference in their rankings and also the traffic they get direct from Facebook. I love the software and it was well worth the money (although it's not your normal $9.97 WSO it is very professional and you can make awesome looking fan pages in minutes without the hassle of trying to make them look appealing yourself. Plus there are some great bonuses too!).
Increasing Interactivity
Another thing I'm currently looking at is the comments I get on my niche blogs. Most of the time I turn them off as they can be a hassle to deal with.
But apparently Google sees sites that have regular comments as a big plus, so it's something I need to test for myself.
So I've just picked up a copy of WP Comment Ninja to automate the whole process for me without having to approve anything myself.
I don't buy many products from the Warrior Forum (WSO's) as they can be very disappointing sometimes.
But I'm happy to say this one and FB Slider are 2 of the best buys I've made in a long time.
WP Comment Ninja automatically posts comments on my blogs that are drip fed to look natural. Not only does it come with 1000 comments built in but you can upload your own comments too.
Why would you do this?
Well as you know, Google loves fresh content and interaction on websites. WP Comment Ninja gives you both. Your site looks like it is getting unique comments from your readers and the content grows on each page automatically.
I've got to say, for less than $9 (currently) it's an awesome WordPress plugin!
To Sum Up
Social media is something I KNOW I have to get more involved in. So I'm dipping my toe into the cold water to see if it's something I need to dive into very quickly. I will of course post any results here.

Tony
Feel free to leave your comments and share on Facebook below: